How It Works
A 10 x 10 mobile studio is set up at your event.
Guests stand in front of the camera with or without props.
A short video is taken - of your guests dancing, holding signs, or following any theme.
Once guests approve the video - we print it, put it through our cutter and bind the small book right in front of their very eyes.
When they flip through the flipbook, they will smile in astonishment that they can see their video inside.
A Treasured Memory in Minutes
Flipbooks are an exciting new way to add excitement and energy to your special events and parties with the latest craze in customized favors. It's very simple - we set up a display in a 10'x10' area at your venue and invite guests to step behind the camera and make a 7 second video clip of themselves having fun with our props and signs. In about a minute, we turn the video clip into a personalized 60-page business card size flipbook while everyone else watches.
The entertainment value starts with watching others get Flipped Out! Everyone at your event will love watching their friends or colleagues prepare for their own time in front of the camera. The excitement spreads quickly as your guests show off what they have done and encourage others to join in the fun.
A new addition to our program is a scrolling text along the bottom of the pages with a personal message remembering the event. We can also create custom graphic covers for your event's flipbooks with company names & logos, as well as people's names and event dates. We can produce 50-70 flipbooks per hour and everyone has an instant keepsake of the fun they had to keep forever!
About Flipped Out Productions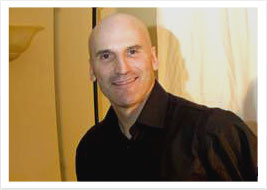 Josh discovered the wonderful new world of flipbooks while helping his wife Caroline at the
national Ewomen Network conference in the summer of 2008. There was a very bright booth
at the big Saturday night banquet that was attracting a lot of attention so, like everybody else,
they got in line to see what all the excitement was about. Without even knowing what it was,
they waited in line for almost an hour and then discovered the fun of making a personal flipbook! Within a week, Josh had signed up as the exclusive mobile flipbook studio for the Puget Sound
area and it's literally been all fun and games since then. Flipped Out Productions has entertained guests at numerous weddings, bar & bat mitzvahs, and many corporate events for companies
such as Microsoft, Siemens, Coinstar, REI, Popcap, and many others. Flipped Out Productions
has also donated it's flipbook services to a number of charitable events, including Get Hitched
Give Hope, and the Heart Ball.